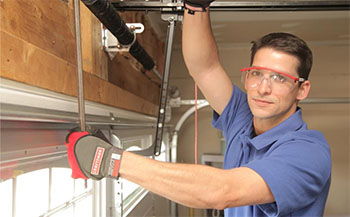 Garage Repair Richmond enjoys serving the many residents that are finding Richmond to be such as attractive place to live and to raise their families. People who enjoy living in the country without being far from the convenience of a big city like Houston find Richmond to be a great place to live. If you have found a home in this town and have any issues with your garage door, we are the experts that you should call. We can help you with garage door maintenance to make sure that your door keeps working properly. Regular maintenance of your door is important because of the wear and tear that results from being used over and over. A garage door is open several times a day and over time things might start breaking if they are not properly maintained.
We offer a reasonably priced overhead door maintenance package that can help you maintain the integrity of each and every moving part on your door. We take time when we maintain your door and inspect such things as springs, sensors, garage door panels, hardware, track, safety release, among others. This maintenance helps catch worn out parts in advance before they break. When we come to help you we are never in a hurry to go the next service call, but take our time to make sure that we do a great job for you. That is why we inspect all the other parts to see if they are working properly and advise you if they will need attention as some time down the road. Customers appreciate service providers who try to establish a long-term relationship instead of a one-time service call.
We have an overhead door service that is dependable and that many people have come to rely upon. One of the reasons that people rely on us is that we try to tell each customer that we serve exactly what the problem is and which is the most economical way to repair it. There are some service providers that when something breaks they don't try to fix it, but prefer to throw it away and replace it with new parts. We save money for our customers by making repairs whenever possible.
Our garage door service has proven popular with customers because we have everything that we need to do the job when we report to a customer. We are also known for our quick response and for our superior customer service.
We can install garage door weather seal such as threshold seals, weather stripping, and insulation. Threshold seals are good at blocking out blown dry leaves, dirt and water.
They are also effective at deterring snakes, mice and other creatures. Weather stripping kits comprise of plastic or vinyl pieces that are attached by nails or screws. When well installed garage door weather stripping provides a seal between the header and jambs and the garage door face. This product keeps the air, dust and water out and doesn't block the garage's opening and closing. Options for insulation may include reflective foil, polystyrene foam panels, fiberglass panels, and spray foam. Insulation provides less noise in the house, climate control in the garage, and possibly lower home cooling and heating costs.